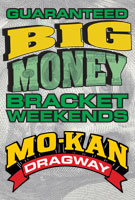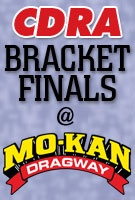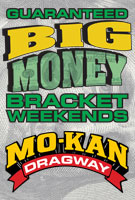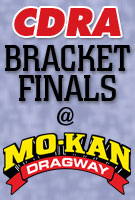 2012 CDRA Rules



For 2012 there will be a total of five CDRA series events, plus the Bracket Finals. The Bracket finals will not count for series points. Each race will be a two day race, with points counted each day. This equals 10 race days. We will take your best 8 race days for your points total. If we are unable to complete 8 races, the total will be drawn from the number of events and / or rounds run. If a racer wishes to join the points, there is a $25 fee for the year in Super Pro, No-Electronics and Sportsman. Junior Dragster is a $20 fee. You must join before eliminations on Sunday or you can not claim points from that race or weekend points money.

If a race is cancelled at any time, for any reason, points stop with the last round completed, if any. At the series directors discretion, rained out days or events may or may not be rescheduled.

Top 5 in each class will receive a plaque & jacket. Champions receive a gold card (free entry) for 2013 CDRA series events. Second place will get a silver card (50% off entry fee) for 2013 CDRA series events. Third place bronze cards (25% off entry fee) for 2013 CDRA series events. Other prizes will be awarded as announced on the CDRA web site.

Safety rules / staging / paring procedures per host track, with these exceptions:

All CDRA Series Points classes run 1/8 mile. Five tenths full tree in Super Pro and No-E.

No blinder in Super Pro unless Cross Talk is used.

A racer may enter the same car in No-E and Super Pro, but no delay boxes are allowed to be in the car when running No-E.

A driver may enter each class only once. A car may run in each class with only one driver.

There is no break rule for CDRA bracket eliminations. If you win a round and cannot return for the next round, you will receive points and/or money, if any, as if you appeared in the next round and lost. You must continue in eliminations with the car you start with.

No-E Class Rules:

No-E is a 0 to 9.99 ET break. No/E racers dialing slower than 9.99 on the 1/8 mile are NOT to be allowed to run eliminations! No-E is footbrake only.

Trans brakes may not be used as a launching device.

Any device that relays vehicles on track performance, other than OEM, is prohibited.

Line locks on non-driven wheels only. Line locks may not be used as a launching device. All wiring to the line lock must be visible and traceable.

Two or three step rev limiters are prohibited. Single stage rev limiter is acceptable but cannot be used as a launching device.

Clutch launched, stick shift vehicles may use line lock on starting line to prevent vehicle from rolling. Clutch launched, stick shift vehicles may use single stage rev limiter to control starting line RPM.

Sportsman Class Rules:

Sportsman is a 6.90 MINIMUM dial. All other No-E rules apply, except automated shifters not allowed.

Super Pro Class Rules:

No down track stutters. All wiring must be traceable and identifiable to the tech inspector.

Super Pro is a 0 to 7.99 et break. Super Pro racers dialing slower than 7.99 on the 1/8 mile are NOT to be allowed to run eliminations!

Points:

15 points to enter
10 points per round win
2 extra points for class r/u
5 extra points for class win

*Rain Out: 15 points for being on the property.

Since we cannot possibly cover all situations that may arise during eliminations, it is the race director's responsibility to make a judgement on disputed calls. If it is necessary to settle a dispute, the race director will speak with the drivers involved ONLY. Not the crews, wives and / or husbands.